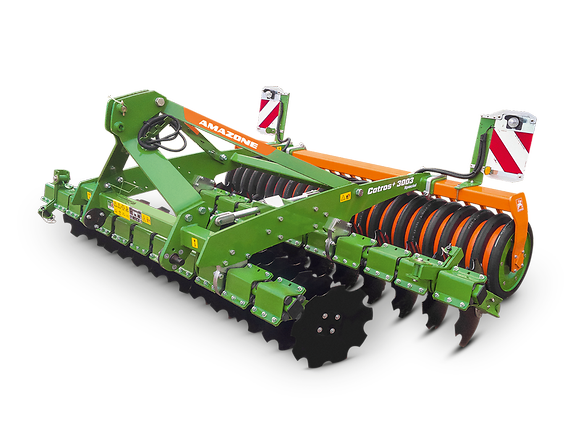 CATROS+ HIGH SPEED DISC: HIGH SPEED DISC
Catros+ high speed disc boasts a flexible, high-efficiency design combined with low specific pulling power, ideally suited for cultivation behind tractors in the 210 to 350 hp class. Versatile and fast – prep seed beds in the spring, and mix soil quickly and thoroughly with spring or fall tillage at shallow depths.
As options, 12 different roller types are available, including a knife roller that can be added in front of the discs to cut up residue. Plus, a Crushboard for in front or behind the disc rows is available. Overall, Catros+ is a flexible solution for better mixing, leveling and crumbling – adaptable to multiple types of soil and crops.
Standard features allow for convenient adjustment from the tractor cab using a hydraulic spool valve, ensuring that the working depth can be flexibly matched to the situation – as shallow as wanted for soil preparation and as deep as needed for burying residue. A Contour Frame is available so all sections will adapt evenly and independently with the contours of the field. And hydraulic folding comes standard for a transport width of less than 10' (3 m).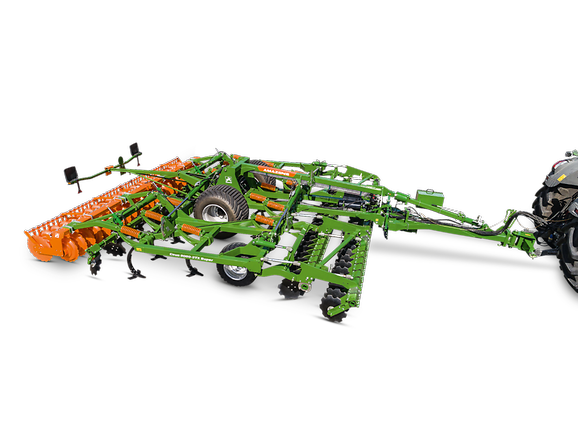 CEUS-2TX COMBINATION TOOL

The Ceus-2TX can go shallow for disc cultivation that's closer to the surface (2-5.5", 5-14 cm). Or engage the tines to also go shallow or go deep

(down to 12", 30 cm) for primary soil tillage, stubble work and seed-bed prep in heavier organic matter. It's independently flexible to run with just discs or just tines, or without the roller. Or, engage it all and get the bigger job done in one.

Maximum flexibility to run with or without discs or tines (for cultivation or tillage), and with or without the roller (in wet conditions).

Cross-angle serrated discs (20", 510 mm) cultivate soil while cutting and mixing crop residue at the surface for maximum organic retention.

Tines are spaced to allow even deep loosening of the soil and good passage of the organic matter. Multiple tine attachments are available to fit the need of the field.
AMAZONE Tillage Equipment FOR SALE
When you buy new Amazone Tillage Equipment, you can rest assured you're getting a rugged, yet sophisticated machine engineered and manufactured with your agriculture needs in mind. As a leading source of heavy equipment for the region, Holt Ag Solutions offers a complete selection of quality products and services.
Contact us today to learn more by calling 888-244-6011 or by filling out the form on the right.